---
What is black and sticks to a tree?
A peeping tom after a forest fire.
---
One man's trash is another man's treasure...
(Maybe this wasn't the ideal way of telling our daughter that she was adopted…)
---
"Mother I really don't like the red soup"
"Be quiet child. We get it just once a month"
---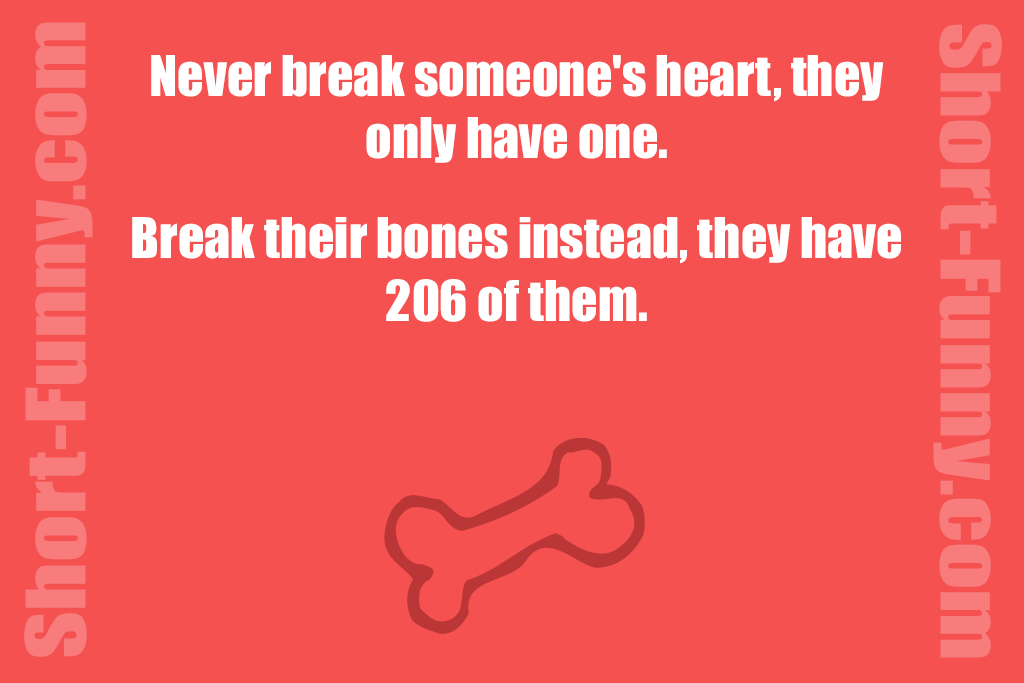 Never break someone's heart, they only have one. Break their bones instead, they have 206 of them.
---
"Do you have Valentines cards that say something like "You're my only one?"
-
Sure thing.
-
Wonderful! I'll take 8 of those please.
---
Mom, I'm still having those sharp headaches!
-
Well why don't you move away from in front of the dart board then?!
---
I discovered my mother in law has weekly sessions with Lucifer himself on how to be even more vicious. I've no idea what kind of fees she's charging him.
---
A mom tells her son a joke; the son is embarrassed and says: "Mom, please don't tell any more jokes. You really can't make them."
The mom only shrugs and says, "Well – I did make you..."
---
Either the woman at the back of the train has two really ugly children, or two seriously cool Pokémons.
---
Doctor tells his patient, "I'm afraid you are going to die in a few hours. What is your last wish?"
-
Patient replies, "I need a good doctor."
---
How to save a man from drowning?
-
Try removing your foot from their head.
---
What do you get when you cross a rabbit and a pit bull?
Just the pit bull.
---
"Mother, why do people die so suddenly in our family?"
...
"Mama?"
"Mama?"
"Maaamma!"
---
What do you call people who use the temperature method of contraception?
Parents.
---
Why do hurricanes get such lame names, like Sandy? Name that thing Hurricane Death Megatron 900 and I guarantee folks will be evacuating like they need to.
---
Next Part
Best Black Humor Jokes
Part 1
|
Part 2
|
Part 3
|
Part 4
|
Part 5
|
Part 6
|
Part 7
|
Part 8
|
Part 9
|
Part 10
|
New Dark Humor Jokes
See also:
New jokes
---