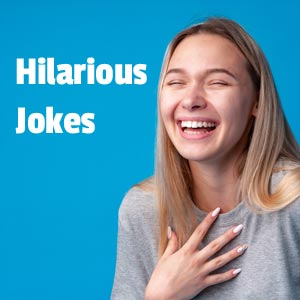 Hilarious jokes
Seriously good jokes!
---
Tonight I dreamt of a beautiful walk on a sandy beach.
At least that explains the footprints I found in the cat litter box this morning.
---
What do you get when you cross-breed a shark and a cow?
I have no idea but I wouldn't try milking it.
---
"I wasn't that drunk yesterday." "Oh boy you took the shower head in your arms and told it to stop crying."
---
Women really know how to hold a grudge. My wife asked me to pass her a lip balm. And by mistake, I gave her a tube of Super Glue. It's been a month now and she's still not speaking to me!
---
Today, my son came to me and gave me a hug – out of the blue. I was very pleasantly surprised – that is, until I heard him tell his father, "You're right. She did gain weight."
---
I proposed to my ex-wife. But she said no. She believes I'm just after my money.
---
Of course I should clean my windows. But privacy is important too.
---
I've always thought I will discover my inner self through some eastern philosophies, not because of a stupid single-ply toilet paper from Walmart!
---
Boy complains to his father: You told me to put a potato in my swimming trunks! You said it would impress the girls at the pool! But you forgot to mention one thing!
Father: Really, what?
Boy: That the potato should go in the front.
---
I hate people who take drugs. DEA is the worst.
---
Sometimes it is very important if a sentence was said by a man or a woman. A good example: "I used a whole pack of tissues during that awesome movie yesterday!"
---
Two elephants meet a totally naked guy. After a while one elephant says to the other: "I really don't get how he can feed himself with that thing!"
---
I just got a photo from a speeding camera through the mail. I sent it right back – way too expensive and really bad quality.
---
When my wife starts to sing I always go out and do some garden work so our neighbors can see there's no domestic violence going on.
---
Two teenagers, Fred and Joe, meet after school and Fred is all excited: "Man I was at the most awesome party this weekend! We went to this dude's house and guy had toilets made of pure gold!"
"No way!"
"Yes way," insists Fred, "come with me and check it out for yourself if you don't believe me."
-
Twenty minutes later they're ringing the doorbell at the place. A middle-aged lady opens and Fred eagerly asks her, "Hi! I'm sorry to bother you but there was a party at your house yesterday and my friend doesn't believe that you have toilet bowls of pure gold!"
-
The lady looks at him for a moment and then yells into the inside of the house, "Roger, the pig that shat in your trombone is here!"
---
I'm dating this wonderful girl and she has a twin. People often ask me how I can tell them apart – but it's easy, really. Jane likes to paint her fingernails and Tom has a willie.
---
Husband brings the child home from kindergarten and asks his wife, "He's been crying the whole way home. Isn't he sick or something?"
"No," replies the wife, "he was just trying to tell you he isn't our Frankie."
---
I freaked out the electrician by opening the door naked. I couldn't tell what gave him a bigger shock – whether the fact that I was naked, or that I got into his house.
---
My friend Robbie shocked and hurt me. He told me today that I make people very uncomfortable and have no respect for personal space. I mean, what a thing to say to a friend? It totally ruined our bath!
---
8 p.m. I get an SMS from my girlfriend: Me or football?!
11 p.m. I SMS my girlfriend: You of course.
---
A police officer stops a minivan full of elderly ladies being driven by an old gentleman because they're only going 25 mph, stopping the mid-day traffic.
-
The policeman asks the driver why is he going so slow.
-
"Well that's the speed limit, isn't it! There was a sign saying 25 and everything!" the driver defends himself.
-
The policeman sighs, "No, sir, that's the number of the highway you're on. It has nothing to do with the speed limit."
-
"Oh, so that's what it means…" says the driver, looking shocked.
-
The officer looks at the rest of the van and notices the grannies are looking somewhat frozen and stiff.
-
"What's up with the ladies?" he asks the driver.
-
"Um…" the driver scratches his head, "you see, we just got off highway 150…"
---
At a disco:
He: "Wow, what's a cute girl like you doing in a corner all alone?"
-
She: "I had to fart."
---
Two police officers crash their car into a tree. After a moment of silence, one of them says, "Wow, that's got to be the fastest we ever got to the accident site."
---
A Japanese man in a monastery atop a sacred mountain asks the wise man:
-
"Master Ayumu, why do all Westerners think that Japanese people look alike?"
-
"I am not Master Ayumu."
---
Wait for me honey, I'm just finishing my make-up.
You don't need make-up, Jane.
Oh, Richard…. really? That is so sweet of you!
You need plastic surgery.
---
Broccoli: Hey, I look like a tree.
Mushroom: Wow, I look just like an umbrella.
Walnut: I look exactly like a brain.
Banana: Man, can we change the topic please?
---
Next Part Hilarious Jokes

Part 1
|
Part 2
|
Part 3
|
Part 4
|
Part 5
|
Part 6
---