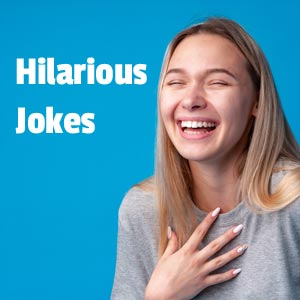 Hilarious jokes
Seriously good jokes!
---
Tonight I dreamt of a beautiful walk on a sandy beach.
At least that explains the footprints I found in the cat litter box this morning.
---
What do you get when you cross-breed a shark and a cow?
I have no idea but I wouldn't try milking it.
---
"I wasn't that drunk yesterday." "Oh boy you took the shower head in your arms and told it to stop crying."
---
How can you tell you have a really bad case of acne?
It's when the blind try to read your face.
---
Of course I should clean my windows. But privacy is important too.
---
Boy complains to his father: You told me to put a potato in my swimming trunks! You said it would impress the girls at the pool! But you forgot to mention one thing!
Father: Really, what?
Boy: That the potato should go in the front.
---
Sometimes it is very important if a sentence was said by a man or a woman. A good example: "I used a whole pack of tissues during that awesome movie yesterday!"
---
Two elephants meet a totally naked guy. After a while one elephant says to the other: "I really don't get how he can feed himself with that thing!"
---
I just got a photo from a speeding camera through the mail. I sent it right back – way too expensive and really bad quality.
---
When my wife starts to sing I always go out and do some garden work so our neighbors can see there's no domestic violence going on.
---
Husband brings the child home from kindergarten and asks his wife, "He's been crying the whole way home. Isn't he sick or something?"
"No," replies the wife, "he was just trying to tell you he isn't our Frankie."
---
8 p.m. I get an SMS from my girlfriend: Me or football?!
11 p.m. I SMS my girlfriend: You of course.
---
At a disco:
He: "Wow, what's a cute girl like you doing in a corner all alone?"
-
She: "I had to fart."
---
Two police officers crash their car into a tree. After a moment of silence, one of them says, "Wow, that's got to be the fastest we ever got to the accident site."
---
Wait for me honey, I'm just finishing my make-up.
You don't need make-up, Jane.
Oh, Richard…. really? That is so sweet of you!
You need plastic surgery.
---
Broccoli: Hey, I look like a tree.
Mushroom: Wow, I look just like an umbrella.
Walnut: I look exactly like a brain.
Banana: Man, can we change the topic please?
---
Next Part Hilarious Jokes

Part 1
|
Part 2
|
Part 3
|
Part 4
|
Part 5
|
Part 6
---