---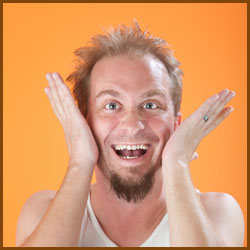 Best Dad Jokes List
Sometimes those dad jokes get so terrible, corny, bad, dumb and cheesy that you can't but laugh!

---
Part 1 | Part 2 | Part 3 | Part 4 | Part 5 | New Dad Jokes
---
Do you know what makes me smile?
-
My facial muscles.
---
What is the worst combination of two sicknesses?
-
Diarrhea and Alzheimer. You're running, but you don't know where.
---
What is hairy, brown, and goes up and down?
-
A kiwi in an elevator.
---
Little Petra asks her dad at breakfast time, "Daddy, can you please teach me how to make eggs?"
Dad shakes his head, "Nope."
"But why daddy? I want to learn!"
The dad winks at her, "I can't teach you how to make eggs because I'm not a hen."
---
Daddy what's a transvestite?
-
Ask Mommy, he knows.
---
Me, "Forgive me, but I'm really pissed off now!"
Dad, "Okay, you're forgiven."
---
Wow, my pen can write hands-free! Isn't that incredible??? It can write all sorts of other words, too!!!
---
Q: Is Google a he or a she?
A: A she, no doubt, because it won't let you finish your sentence without suggesting other ideas.
---
Today I went to a barber's shop for a shave. The barber asked me to put a small wooden ball in my mouth so he could get a closer shave around my cheeks.
I asked: "But what if I swallow the ball?"
He replied: "No problem sir, you just bring it back tomorrow like everybody else."
---
Reporter interviews a man: "Sir, you've lived next to this highway for 20 years, do you feel that it has somehow influenced you?"
-
The man: "NOOooooo, NOOoooo, NOOooo…"
---
What is cold and stands under a street lamp?
-
A frostitute.
---
Two hot dogs are walking down the street.
-
One suddenly turns to the other and says, "Mike! Your wiener is showing!"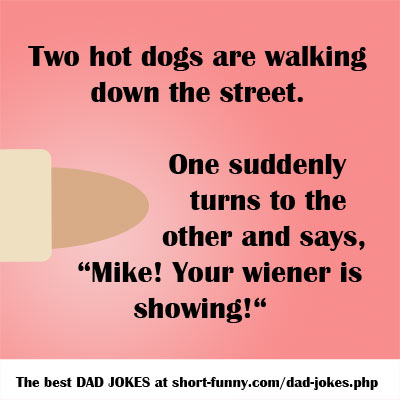 ---
Problems sleeping? Cut the legs of your bed. You'll sleep deeper.
---
What does a house wear?
Address (a dress).
---
Which bus never drove on any street?
The globus.
---
What is blue and lies under a mushroom?
-
Smurf poop.
---
What type of candy is always late?
A chocolate.
---
Which table fits in the fridge?
VegeTABLE.
---
What do you call an American Bee?
A USB.
---
What fish is the best fighter?
-
The swordfish.
---
What is 5q + 5q?
[10q]
You're welcome!
---
I lost some weight last month. But now it found me again.
---
Would you like to hear a construction joke?
[Yes]
Well I'm still working on it.
---
Do you know why I can't be buried in a cemetery?"
[No]
"Because I'm still alive."
---
I have a very secure job. There's nobody else who would want it.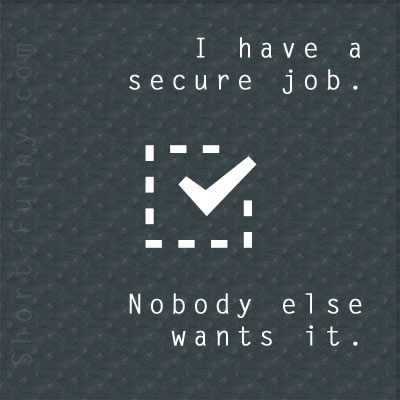 ---
Do you know what's up?
-
The ceiling.
---
Do you feel cold?
Then go to the corner, there's 90 degrees.
---