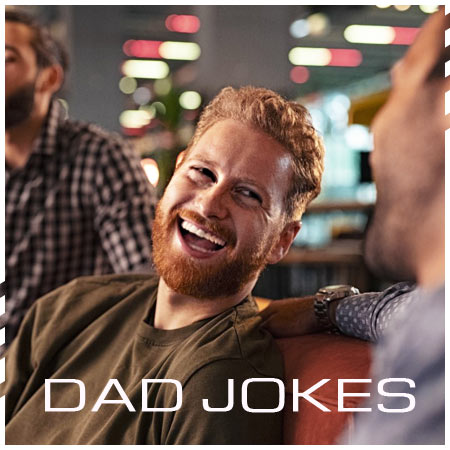 BEST DAD JOKES EVER
Those dad jokes can get so bad, corny and cheesy that you can't but laugh!

---
Punctuation can change a whole sentence. Observe: "Let's eat, Grandma!" "Let's eat, punctuation."
---
What is invisible and smells of carrots?
A little bunny's fart.
---
What do you call a German entertainer?
-
A kraut-pleaser.
---
What is hairy, brown, and goes up and down?
-
A kiwi in an elevator.
---
How do you recognize a gynecologist?
-
He usually wears his watch closer to his elbow.
---
Do you know what my dream job is?
-
[NO]
-
Cashier. Women are literally lining up for you.
---
Did you hear the joke about the elephant in the elevator?
-
No? Me neither, I took the stairs.
---
Other than "It's fine," what other life threats do women use?
---
Why is our nose right in the middle of our face?
-
Well, it is the scenter.
---
What would you call a clock covered in chocolate?
-
Food around the clock.
---
Why did the singer take a bucket to her choir practice?
-
She needed something to carry her tune.
---
The woman is psycho, the man is logical. Which bus went from Spain to America?
-
Columbus.
---
What is cold and stands under a street lamp?
-
A frostitute.
---
I get all kinds of weird looks at the gym. Can't they bring their own pizza?
---
What does a house wear?
Address (a dress).
---
What is blue and lies under a mushroom?
-
Smurf poop.
---
How do you make holy water? Freeze it into ice, then drill in some holes.
---
---
What fish is the best fighter?
-
The swordfish.
---
What is 5q + 5q?
[10q]
You're welcome!
---
Corny Dad Jokes
---
My doctor recommended that I eat more at Burger King.
What else could he mean when he told me I should eat less McDonald's?
---
Would you like to hear a construction joke?
[Yes]
Well I'm still working on it.
---
Did you know that there's not a single canary on Canary Islands?
-
And did you know that the same holds for the Virgin Islands?
-
Really, not a single canary.
---
Do you have a car – but no gas money?
-
Just fart in your wallet! Tadaaa – gas money!
---
Do you know what's up?
-
The ceiling.
---
Do you feel cold?
Then go to the corner, there's 90 degrees.
---
---
Which bus went from Spain to America?
-
Columbus.
---
Two walls arrange a date – "Let's meet at the corner."
---
I read the other day that people eat more bananas than monkeys. No surprises there, I can't even remember the last time I ate a monkey.
---
Working in a crematorium, you can never urn a living.
---
What do you do when the phone rings and you get a private caller?
-
Don't answer that. Pick up for ranks Lieutenant and higher only.
---
How much longer is the Amazonas compared to the Nile?
[Don't know]
By 4 letters.
---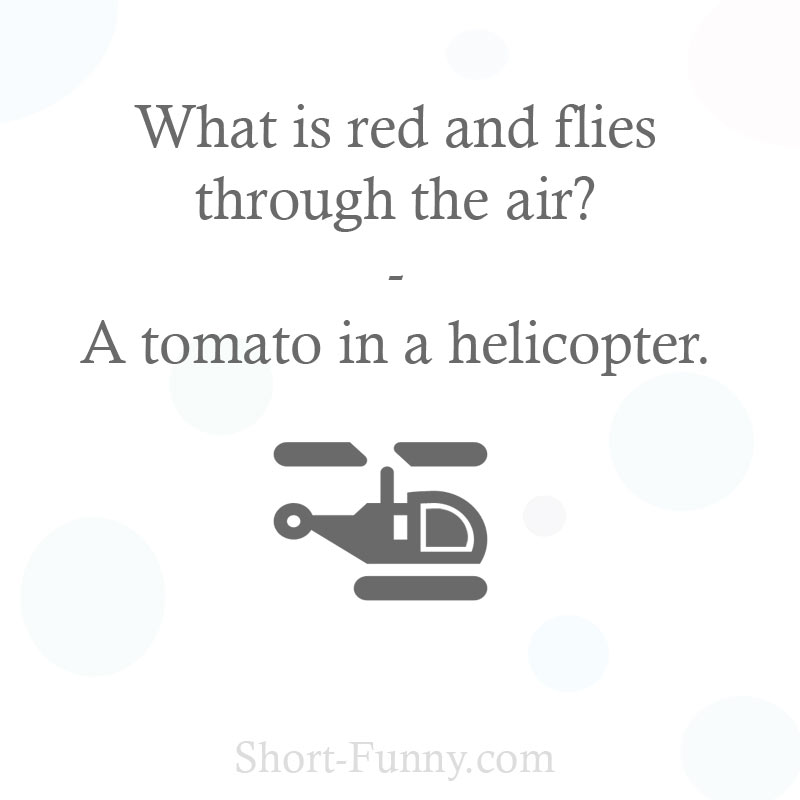 ---
They are testing a revolutionary new blender, but they're getting mixed results.
---
"What is a bunny without a carrot?"
-
"Hungry!"
---
Did you hear about the new movie constipation? It hasn't come out yet.
---
Do you know how I embrace my mistakes?
-
I hug my wife and children.
---
A single glance tells me if somebody is lying. It's the fact that they're horizontal that gives it away.
---
What is red and goes up and down? A tomato in an elevator.
---
Did you know that UPS and Fedex are going into a merger? They will be called Fed-Ups now.
---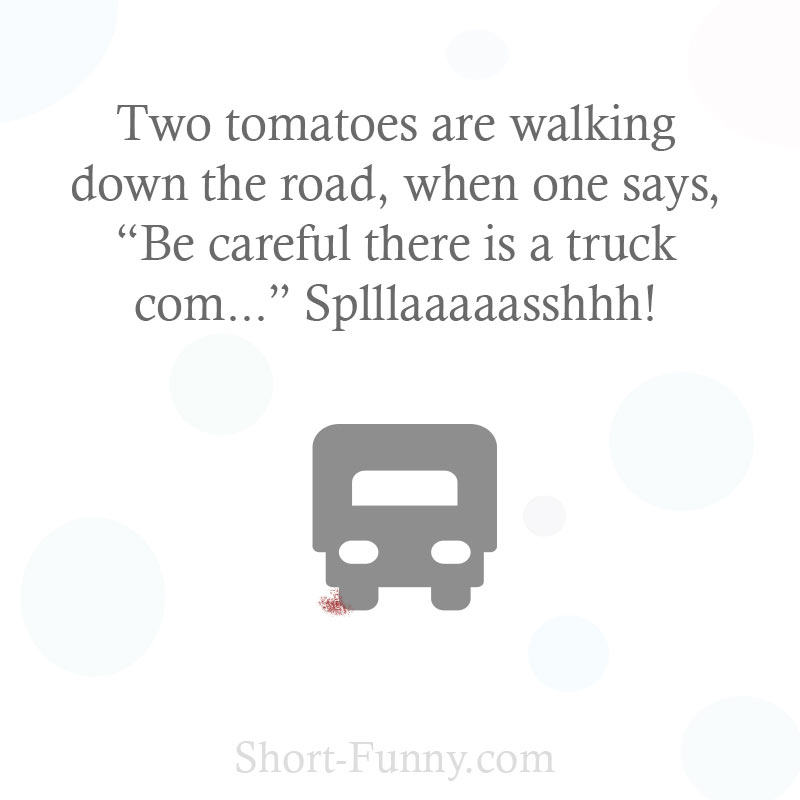 ---
The hipster from next door drowned. He went ice skating before it was cool.
---
Not even orcas dare attack an octopus.
It's too well armed.
---
I wanted to wear my camouflage jeans today but I just couldn't find them.
---
Cannibals aren't very sociable. They're all fed up with people.
---
I don't know why people have a problem with wigs. It's a look anybody can pull off!
---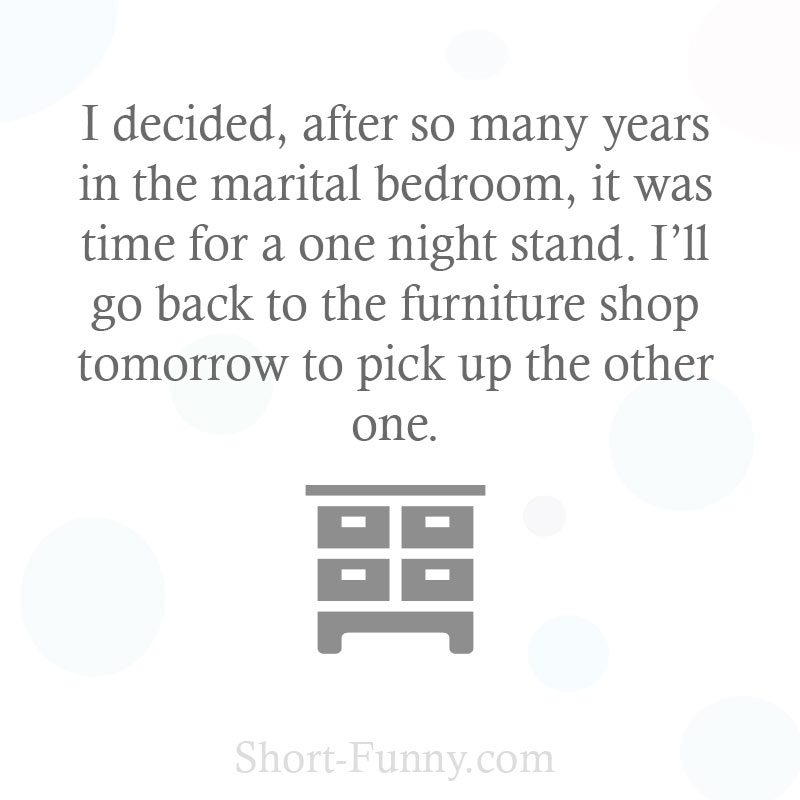 ---
Bad Dad Jokes
---
Two cows meet, one says, "Mooooo!"
-
The other one is offended, "Hey, I just wanted to say that!"
---
How do you call a boat without a rope?
-
"Boat!"
---
Two penguins meet. One says, "Jesus it is cold today."
The other hisses, "Shut up. Penguins can't talk."
---
Why didn't the Orange drive when the lights turned green again?
-
No juice!
---
Why was the toilet paper rolling down the hill?
-
It was in a rush to get to the bottom.
---
Do you know the most important words that could open a lot of doors in your life?
-
Push and Pull.
---
Is Google a he or a she?
A she, no doubt, because it won't let you finish your sentence without suggesting other ideas.
---
Reporter interviews a man: "Sir, you've lived next to this highway for 20 years, do you feel that it has somehow influenced you?"
-
The man: "NOOooooo, NOOoooo, NOOooo…"
---
I've never liked speed bumps much. But I'm getting over it slowly.
---
What is the worst combination of two sicknesses?
-
Diarrhea and Alzheimer. You're running, but you don't know where.
---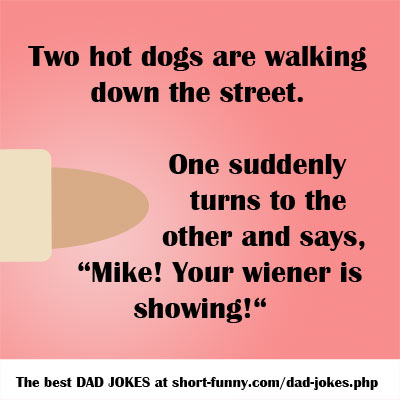 ---
Which bus never drove on any street?
The globus.
---
Have you heard there was a kidnapping at the school?
[NO]
But it's fine now, the kid woke up again.
---
I was a doctor for a while but then I quit. I simply didn't have enough patience.
---
Little Petra asks her dad at breakfast time, "Daddy, can you please teach me how to make eggs?"
Dad shakes his head, "Nope."
"But why daddy? I want to learn!"
The dad winks at her, "I can't teach you how to make eggs because I'm not a hen."
---
I saw an expiration day on an anti-aging cream. Now that's just a scam!
---
Problems sleeping? Cut the legs of your bed. You'll sleep deeper.
---
Daddy what's a transvestite?
-
Ask Mommy, he knows.
---
Clever Dad Jokes
---
Have you heard that popular joke about sidewalks?
-
I'm telling you, that thing's all over town!
---
Yes, money cannot buy you happiness, but I'd still feel a lot more comfortable crying in a new BMW than on a bike.
---
"Esrowneve" may look like gibberish, but when you put it backwards, it's even worse…
---
What do you call an American Bee?
A USB.
---
What type of candy is always late?
A chocolate.
---
They say whiskey isn't an answer. But I say it's worth a shot.