Funniest jokes, quotes and sayings:
---
Can a kangaroo jump higher than a house?
-
Of course, a house doesn't jump at all.
---
Doctor: "I'm sorry but you suffer from a terminal illness and have only 10 to live."
Patient: "What do you mean, 10? 10 what? Months? Weeks?!"
Doctor: "Nine."
---
What is grey and can't fly?
-
A fat pigeon
---
Why isn't the military accepting karate pros?
-
Because when they salute they might kill themselves.
---
A man asks a farmer near a field, "Sorry sir, would you mind if I crossed your field instead of going around it? You see, I have to catch the 4:23 train."
The farmer says, "Sure, go right ahead. And if my bull sees you, you'll even catch the 4:11 one."
---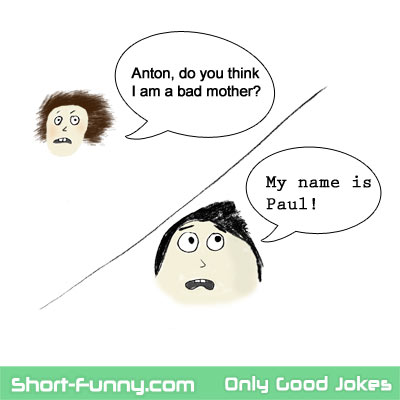 Anton, do you think I'm a bad mother?
My name is Paul.
---
What is black, sits in a tree and is very dangerous?
-
A raven with a machine gun.
---
What is the difference between a snowman and a snowwoman?
-
Snowballs.
---
Mother: "How was school today, Patrick?"
Patrick: "It was really great mum! Today we made explosives!"
Mother: "Ooh, they do very fancy stuff with you these days. And what will you do at school tomorrow?"
Patrick: "What school?"
---
Mama kangaroo is jumping along the bush. Suddenly, a small penguin peeks out of her pouch, vomits and says, "Damn this student exchange!"
---
How to kill a male walrus?
-
Point to his chest and say, "You've got something there!"
---
Five out of six people declare Russian roulette to be perfectly safe.
---
"Mom, where do tampons go?"
"Where the babies come from, darling."
"In the stork?"
---
Next PartFunniest jokes of all times

Part 1
|
Part 2
|
Part 3
|
Part 4
|
Part 5
|
Part 6
|
Part 7
|
Part 8
|
Part 9
|
Part 10
See also:
New jokes
---