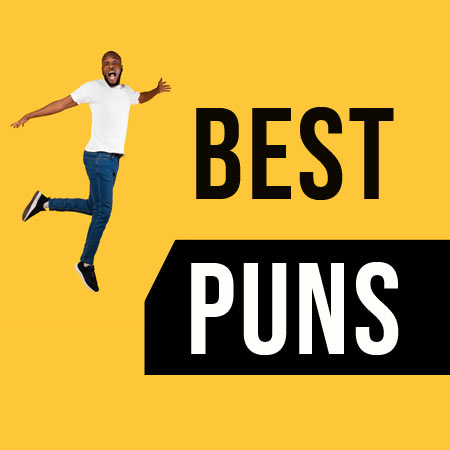 Pun intended.
---
My ex-wife still misses me. But her aim is steadily improving.
---
Daughter: "Mom, can I get a cat or a dog at Christmas, please?"
Mom: "No honey, you will be getting turkey, like every Christmas!"
---
My socks got really holy. I can only wear them to church.
---
I fear my stuttering brother may never finish his prison sentence.
---
A guy walks into a pharmacy: "I have extreme headaches, my belly cramps, I feel like I'm about to vomit and my back hurts like something tears the muscles apart. Do you have something?"
-
Pharmacists: "Nope, I feel fine."
---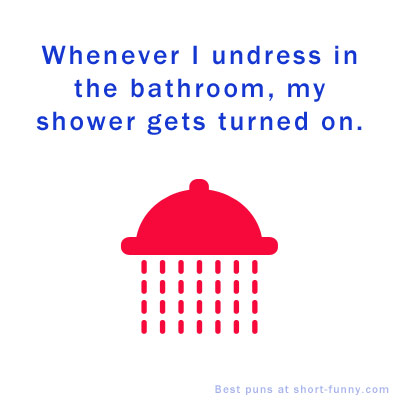 ---
I got my girlfriend a "Get better soon" card.
She's not ill or anything, but she could definitely get better.
---
We had a party in the office yesterday. As the evening progressed, a rather overweight female coworker of mine decided to dance on the table. I remarked: "Wow, really impressive legs!"
She blushed and asked if I really meant it. "Absolutely, Karen! An average table would have collapsed by now!"
---
"I love the feeling when I can make people open up to me."
-
Mike, 48, surgeon
---
Two underpans meet for a beer.
-
"Why are you so brown?" asks one.
-
"Don't ask. It was a really crappy week."
---
If you spent your day in a well, can you say your day was well-spent?
---
I Googled "how to start a wildfire".
I got 48,500 matches.
---
A patient bursts into a doctor's office, "Doctor, I believe I'm a deck of cards!"
The doctor calmly replies, "Go sit in the waiting room, please, I'll be dealing with you later."
---
A Spanish magician has a grand magical show and at the end he says he will disappear after counting to three. He starts to count, "Un, dos…"
Kazaam! He vanished without a tres.
---
This gravity joke is getting a bit old, but I fall for it every time.
---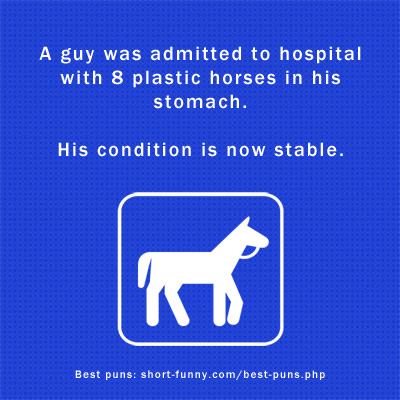 ---
Why did the balloon go near the needle?
He wanted to be a pop star.
---
I was hoping to steal some leftovers from the party but I guess my plans were foiled.
---
My cousin, a magician, decided to incorporate the use of trapdoors in his shows. But I think it's just a stage he's going through.
---
I got very lonely lately, so I bought some shares.
-
It's much nicer having some company.
---
Which country's capital is the fastest growing?
-
Answer: Ireland's.
-
Every year it's Dublin.
---
Why was the chef arrested?
-
He was beating eggs every day.
---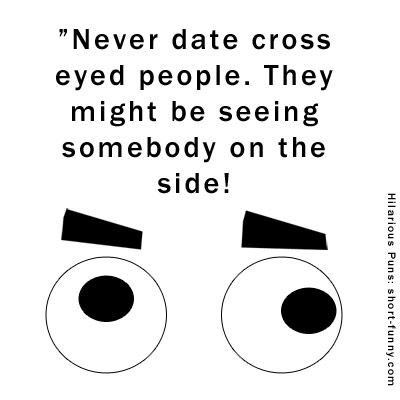 ---
Apparently taking a day off is not something you should do when you work for a calendar company.
---
Next Part of Best Puns

Part 1
|
Part 2
|
Part 3
|
Part 4
|
Part 5
|
Part 6
|
Part 7
|
Part 8
|
New Puns
---