32.
Scotland's national animal is a unicorn.
---
33.
It takes 42 facial muscles to frown but only 17 muscles to smile.
---
34.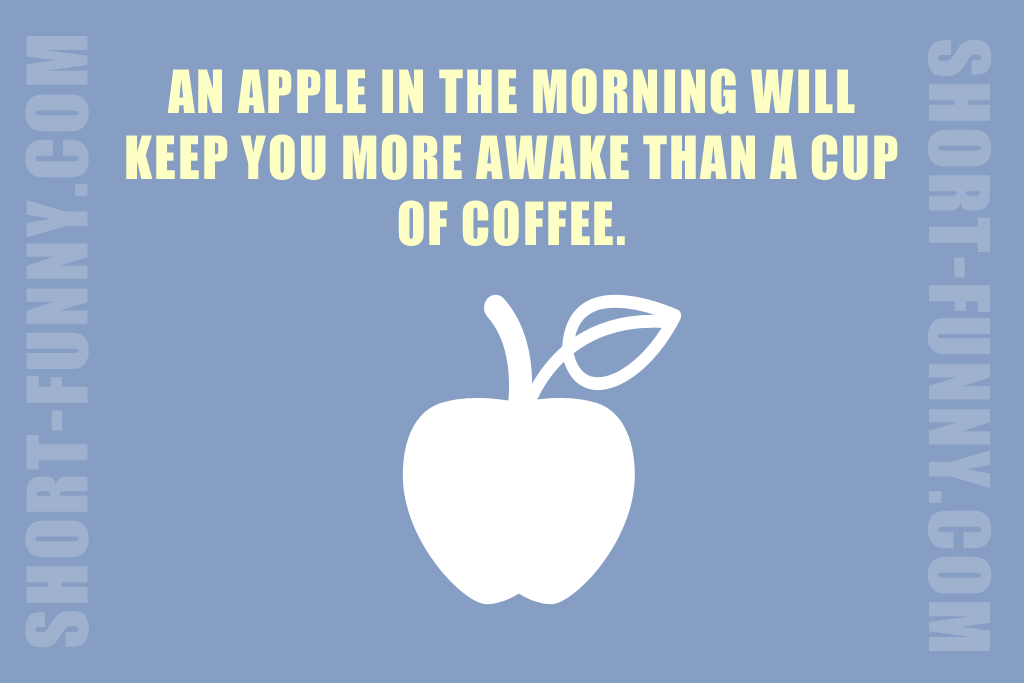 An apple in the morning will keep you more awake than a cup of coffee.
---
35.
Grocery stores in France are forbidden by law to throw away the food they haven't sold. They must donate unused edible food to charities or make sure it gets processed into animal food or composted.
---
36.
In 2005, a group of women from Kampala, Uganda who make their 1.20 USD per day by breaking rocks into gravel, sent an impressive 900 USD to help the victims of Hurricane Katrina.
---
37.
The American football huddle was invented in 1892 by Paul Hubbard, a quarterback from an all-deaf Gallaudet University, to stop the opposing team from reading their signs.
---
38.
The US Military buys copious amounts of "Liquid Ass" – a terribly smelling fart spray – to train their emergency medics for the stink of the battlefield.
---
39.
There is a village in England called Shitterton. The sign with the village name was so popular among tourists that Shitterton finally had to put up a 1.5 ton stone with the village name inscribed into it to stop the constant thieving.
---
40.
Funny town names:
Shitterton, England
Hell, Michigan
Why, Arizona
Whynot, Mississippi
Bastardstown, Ireland
Batman, Turkey (at one point, they threatened to sue Warner Bros)
Beaverlick, Kentucky
Bitchfield, England
Boring, Oregon (became a twin city with Dull, Scotland)
Bra, Italy
Catbrain, England
Cockburn Town, Turks and Caicos Islands
Cocks, Cornwall
Condom, France
Dicktown, New Jersey
Embarrass, Minnesota
Cut and Shoot, Texas
Faggot Hill, Massachusetts
Fingringhoe, England
Gay, Georgia
Hooker, Oklahoma
Hop Bottom, Pennsylvania
Hospital, Ireland (the village has no hospital)
Kill, Ireland
Knob Lick, Missouri
Lost, Scotland
Middelfart, Denmark
Normal, Illinois
No Place, England
Ofakim, Israel
Onancock, Virginia
Once Brewed, England – not far from Twice Brewed, both in Northumbria
Pennycomequick, England
Police, Poland
Rectum, the Netherlands
Scratchy Bottom, England
Six Mile Bottom, England
Rottenegg, Austria
Surprise, Arizona
Swastika, Canada
Te Puke, New Zealand
Thong, England
Three Cocks, Wales
Useless Loop, Australia
Vulcan, Alberta, Canada
Wank, Germany
Wankum, Germany
Weed, California
Westward Ho!, UK
Worms, Germany
---