Part 1
|
Part 2
|
Part 3
|
Part 4
|
Part 5
|
Part 6
|
Part 7
|
Part 8
|
Part 9
|
Part 10
|
New
Whenever four New Yorkers get into a cab together with no arguing, a bank has just been robbed.
---
My cactus died. Now it's official. The desert takes better care of plants than I do.
---
Flies don't stand a chance, I'm a one man S.W.A.T. team.
---
You can hide from cake. But cake can't hide from you.
---
Hard work pays off in the future. Lolling on the couch pays off right now.
---
Do you remember when I asked you to give me your opinion? That's right, me neither.
---
Funny insult:
There are three kind of people. The first kind likes to take a shower. The second kind prefers a bath. And the third kind is like you.
---
If the grass is greener on the other side, fair bet is, the water bill is higher too.
---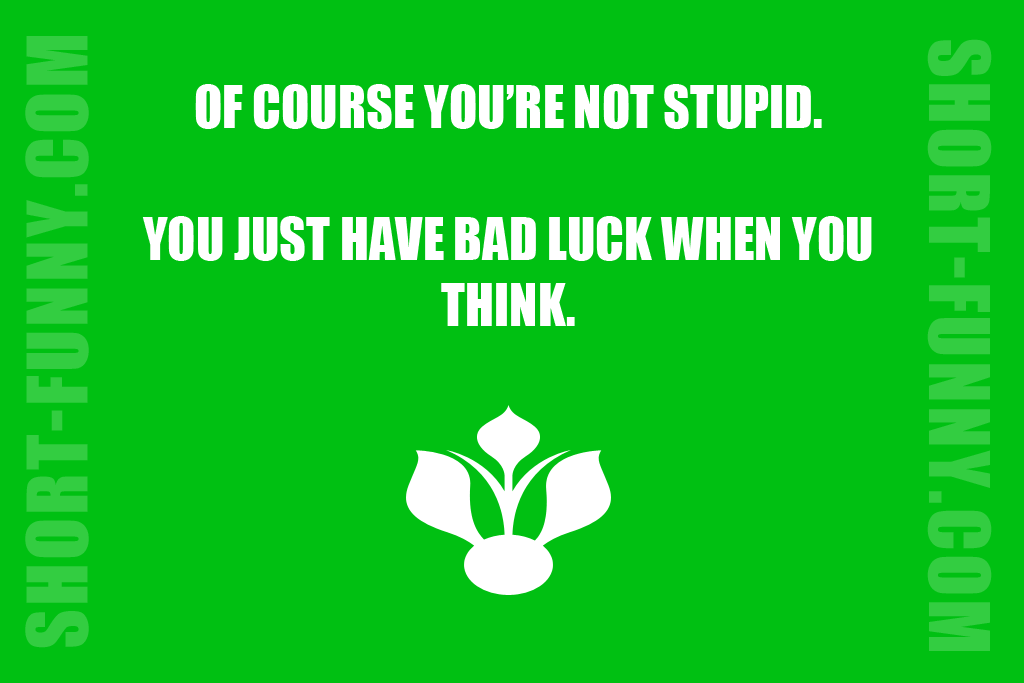 ---
My middle finger salutes you!
---
I'll be there to catch you whenever you fall.
Love, the floor.
---
A bag of money can be a symbol not only of wealth, but also of tremendous inflation.
---
When you're calling a woman, you need to call her twice. First time to give her a chance to find the phone in her handbag, the second time for her to actually answer.
---
Alcohol does not solve any problems, but then again, neither does milk.
---
My wallet is like an onion. Opening it makes me cry.
---
Always be yourself. Unless you can also be a unicorn. In that case, always be a unicorn.
---
He who laughs last is a bit of a slow thinker.
---
Some people's x-rays actually look much better than their photographs.
---
Of course I can keep secrets. But the people I tell them to obviously can't.
---
Next PartFunny Sayings

Part 1
|
Part 2
|
Part 3
|
Part 4
|
Part 5
|
Part 6
|
Part 7
|
Part 8
|
Part 9
|
Part 10
|
New Sayings
---