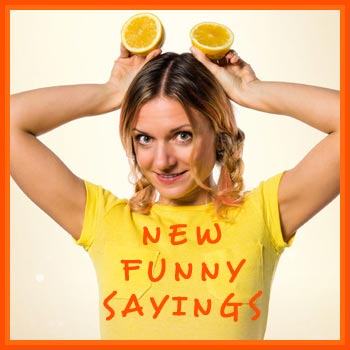 Latest Funny Sayings for the Year 2018 / 2019
---
You may not need a parachute to go skydiving, but you certainly need a parachute if you want to go skydiving more than once.
---
The early worm gets the bird.
---
When someone shakes his finger at me like 'you're going to regret this in the morning', I just sleep until noon. I'm a natural solver.
---
Last month I made a firm resolution to lose 10 pounds. I only have 15 left to go now.
---
I don't understand why there are so many people outside. I mean, don't they have Netflix or what?!
---
What's the difference between you and a caterpillar?
-
Nothing will become of you.
---
Darling, you're just like a plunger. You keep dredging up old shit.
---
That's it! I'm not drinking anymore!!
-
Not that I'm drinking any less, though, either.
---
Love is temporary insanity. The only tried and tested cure for it is marriage.
---
I've come to the conclusion that suicide would really be the answer to all my problems. Now I just have to persuade the right people to go for it.
---
Funny insult:
Looking at you, I'd say you were born close to your home. That's where most accidents happen.
---
We should all take a moment and thank our legs and feet for a lifetime of supporting us.
---
My job is super confidential. As a result, I've no clue what I'm doing.
---
First PartFunny Sayings

Part 1
|
Part 2
|
Part 3
|
Part 4
|
Part 5
|
Part 6
|
Part 7
|
Part 8
|
Part 9
|
Part 10
|
New Sayings
---