---
A diplomat is someone who can tell you to go to hell in such a way that you will look forward to the trip.
-
Caskie Stinnett
---
We've all heard that a million monkeys banging on a million typewriters will eventually reproduce the entire works of Shakespeare. Now, thanks to the Internet, we know this is not true.
-
Robert Wilensky
---
"A two-year old is kind of like having a blender, but you don't have a top for it."
-
Jerry Seinfeld
---
Why didn't Noah swat those two mosquitoes?
-
Anonymous
---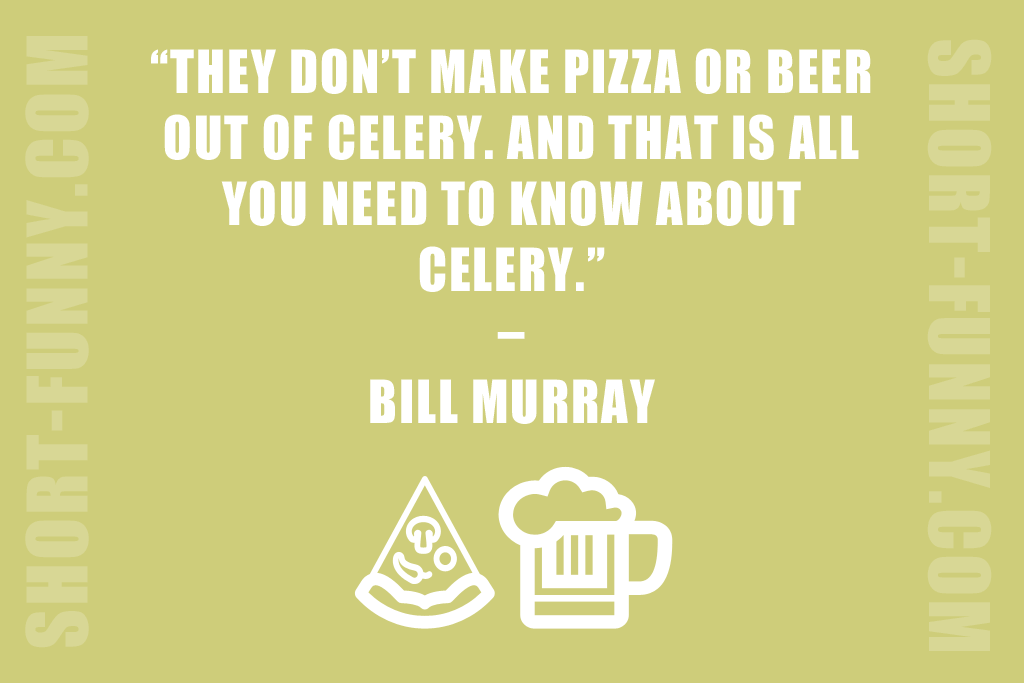 "They don't make pizza or beer out of celery. And that is all you need to know about celery."
–
Bill Murray
---
"Money can't buy you happiness? Well, check this out, I bought myself a happy meal."
–
Paul F Taylor
---
When I was a boy, the Dead Sea was only sick.
-
George Burns
---
When you go into court, you are putting your fate into the hands of twelve people who weren't smart enough to get out of jury duty.
-
Norm Crosby
---
Those people who think they know everything are a great annoyance to those of us who do.
-
Isaac Asimov
---
By working faithfully eight hours a day you may eventually get to be boss and work twelve hours a day.
-
Robert Frost
---
"I wouldn't pay for a personal trainer, but I would pay someone to just knock unhealthy food out of my hands."
–
Bill Murray
---
Next Part Funny Quotes

Part 1
|
Part 2
|
Part 3
|
Part 4
|
Part 5
|
Part 6
|
Part 7
|
Part 8
|
Part 9
|
Part 10
---