---
Before I got married I had six theories about bringing up children; now I have six children and no theories.
-
John Wilmot, Earl of Rochester
---
A bank is a place that will lend you money, if you can prove that you don't need it.
-
Bob Hope
---
Politics is supposed to be the second oldest profession. I have come to realize that it bears a very close resemblance to the first.
-
Ronald Reagan
---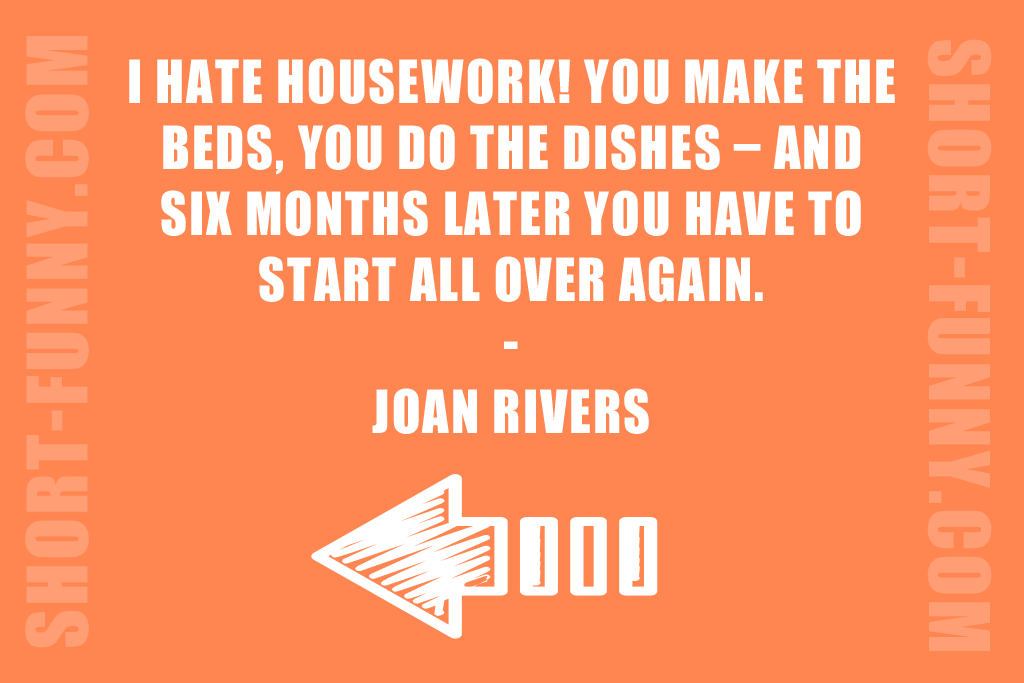 I hate housework! You make the beds, you do the dishes – and six months later you have to start all over again.
-
Joan Rivers
---
It takes only one drink to get me drunk. The trouble is, I can't remember if it's the thirteenth or the fourteenth.
-
George Burns
---
We hope that, when the insects take over the world, they will remember with gratitude how we took them along on all our picnics.
-
Bill Vaughan
---
Retirement at 65 is ridiculous. When I was 65 I still had pimples.
-
George Burns
---
An archaeologist is the best husband a woman can have; the older she gets, the more interested he is in her.
-
Agatha Christie
---
Think of how stupid the average person is, and realize half of them are stupider than that.
-
George Carlin
---
A woman would never make a nuclear bomb. They would never make a weapon that kills. They'd make a weapon that makes you feel bad for a while.
-
Robin Williams
---
The Forgetful Vegan: Man that sure was some good pepperoni pi-Oh Fuck!
-
Zach Galifianakis
---
My mom had a very difficult childhood. My childhood.
-
Cindy from Marzahn
---
The shinbone is a device for finding furniture in a dark room.
-
Anonymous
---
Bisexuality immediately doubles your chances for a date on Saturday night.
-
Rodney Dangerfield
---
Next Part Funny Quotes

Part 1
|
Part 2
|
Part 3
|
Part 4
|
Part 5
|
Part 6
|
Part 7
|
Part 8
|
Part 9
|
Part 10
---