8 p.m. I get an SMS from my girlfriend: Me or football?!
11 p.m. I SMS my girlfriend: You of course.
---
A man has usually no idea how often he normally farts. That is, until he spends 24 hours with a girl he likes.
---
9 out of 10 voices in my head are telling me that I am too fat. The last one is calmly preparing a bowl of chips.
---
Why did Jeremy gobble up his homework?
-
He was told it was a piece of cake.
---
A fat guy and a thin guy meet:
Fat guy: "When I see you, I'd think a famine broke out!"
Thin guy: "And when I see you, I'd think you're the one responsible for that!"
---
Did you hear about that kidnapping at school?!
-
I mean, that brat even started to snore!
---
OK, enough! I'll not be drinking any more!!
-
Not any less though, either.
---
Waiter, I've seen your thumb dipping right into my soup as you were carrying it over!
–
Thank you for your kind concern, sir, but it's OK, the soup is only lukewarm.
---
Why hasn't there ever been a vegan to the Moon?
-
Because there's nobody there to whom they could tell they're vegan.
---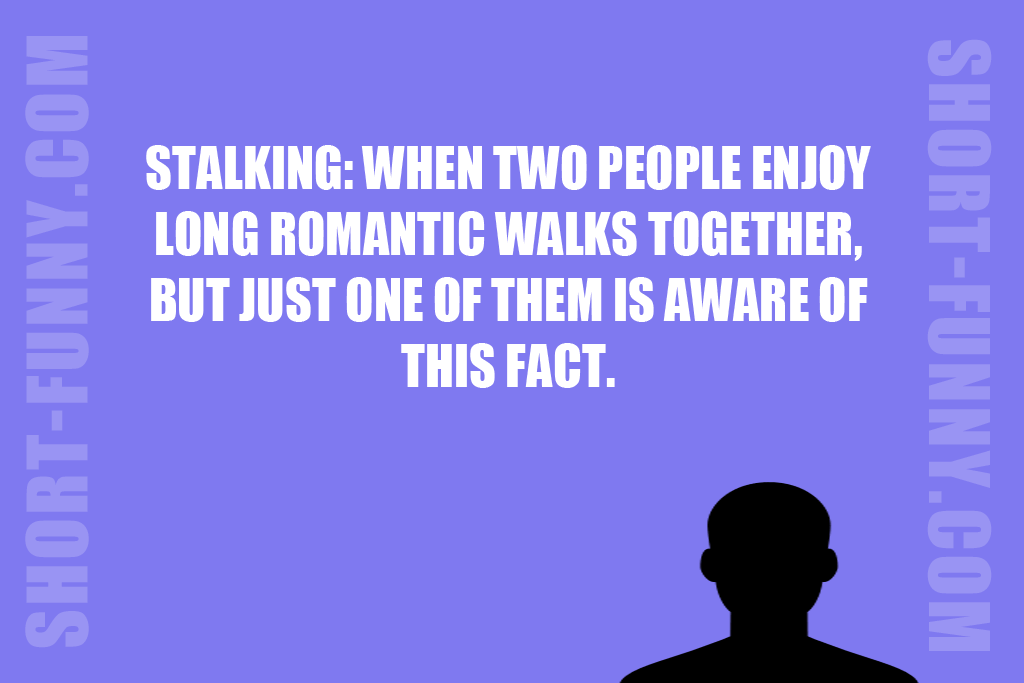 ---
"Waiter, could you bring me some tooth picks, please?"
"I'm sorry sir but you'll have to wait a little bit, they are currently all in use."
---
At a job interview:
"Mrs. Lober, what do you consider your greatest weakness?"
"Honesty."
"Really? I don't believe that is a weakness at all."
"And I don't give a rat's fart about your stupid opinion!"
---
Why haven't there been any shark attacks on lawyers?
-
Sharks observe professional courtesy.
---
A guy stands up at the close of a company meeting, "Guys, I just wanted to ask for your help, I lost a wallet with 450 dollars in it, if you happen to find it, please let me know, there'll be a 50 dollars finder's fee!"
-
Somebody in the back says, "I offer 100!"
---
A child's observation: If a mother laughs at dad's jokes, we have guests.
---
Earth says to Venus: "You need to get some life!"
---
My boss told me yesterday, "Don't dress for the job you have, dress for the job you want". But when I turned up at the office today in Ghostbusters gear, the bastard said I was fired.
---
Let's all stop and give some thanks to our feet and legs for always supporting us.
---
An egg and a chicken sit in a doctor's waiting room. A nurse walks out of the office and asks, "Alright, which one of you came first?"
-
"Seriously!" shouts the chicken," Here, too?!"
---
I got a really cute dog and called him Threemiles. It sounds great to say I walk Threemiles twice a day.
---
Two planets meet. One moans to the other: "Can you believe it, I've got humans!"
The other cheers her up: "Don't worry, it will pass soon."
---
Jenny, if you think your husband's handsome, you should see my boyfriend.
Oh, he's a hottie, is he?
Nope, an optician though.
---
Next Part
of the Hilarious Jokes
Part 1
|
Part 2
|
Part 3
|
Part 4
|
Part 5
|
Part 6
---