I just got a new microwave for my wife. It was a good trade. I hope she will be happy with the new guy.
---
Oh no – you've literally just missed your mother in law. Would you like some new ammo?
---
A friend of mine asked if he could crash on the sofa. He said he'd like to stay at my place for a couple of nights.
He's such a naive puppy. I've been married for six years now. Where does he think I sleep?
---
Two guys are talking, "I haven't had intercourse with my wife until the wedding. What about you?"
"I don't know, what was her maiden name?"
---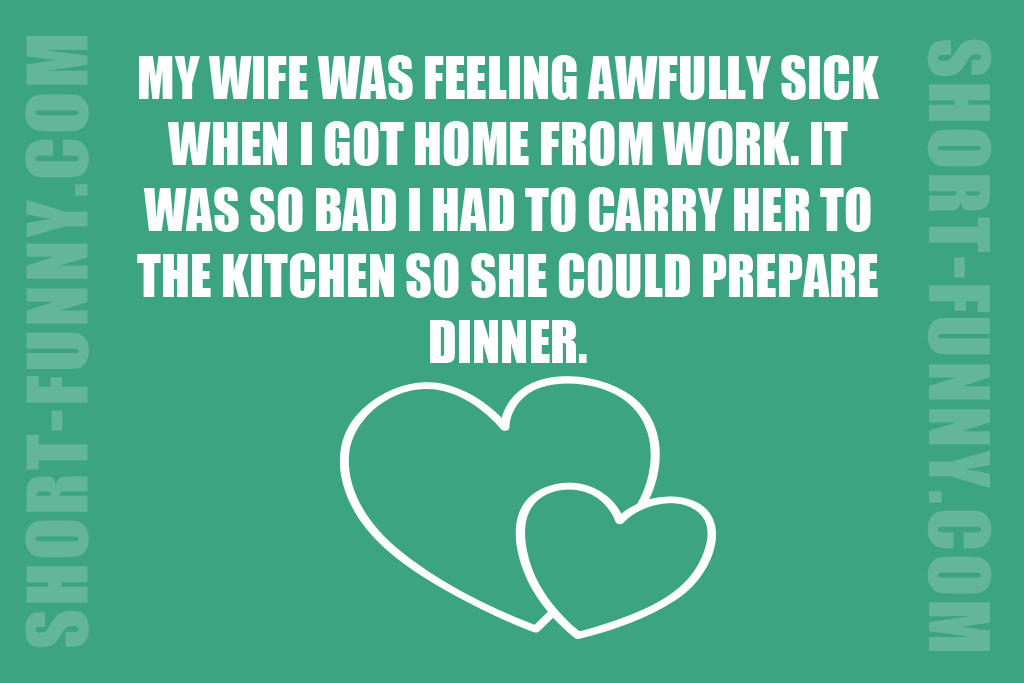 ---
Men perfectly understand other people. Provided those other people are men.
---
Wife: Phillip, you have no clothes on, and you're oiled. Why?! Please explain yourself.
-
Husband: Well, you did nag me. You said I never glisten!
---
My wife had a terrible accident today with my car.
-
OMG, is she hurt?
-
Not yet. She locked herself in the bathroom.
---
"How's it going, Pete?"
"Ah, I don't know. The wife keeps nagging. Just this morning I got scolded like a little boy that I never listen to her and some other thing."
---
Despite protests, I put a high-voltage electric fence around my property.
-
My wife's dead against it.
---
That awkward moment when you realize that marital vows have robbed you of your right to a fair share of blanket.
---
First Part
Husband and Wife Jokes
Part 1
|
Part 2
|
Part 3
|
Part 4
|
Part 5
|
Part 6
---