In any argument, a wife has the last word. Anything the husband says after that last word is the beginning of a new argument.
---
I've just had a really big row with my wife about going on holiday. I wanted to go to Paris; she wanted to come with me.
---
Women. A weak and helpless being from whom nothing can protect you.
---
Long-term marriage? That means that when your wife asks you to strip, it's more likely that she's trying to fill up the space in the washing machine than anything else.
---
Me as best man:
I heard the best man's speech should last as long as the groom lasts in bed. Thank you very much for your attention. Enjoy the wedding.
---
I called Debbie to celebrate our first anniversary. And she just hung up. Doesn't our separation mean anything to her?
---
Women can be likened to roads. The more curves, the bigger the danger.
---
Policeman: I'm very sorry, sir, but it looks like your wife got hit by a bus.
Man: I'm aware of that, but Karen has a wonderful personality.
---
Knock Knock
-
Who's there?
-
The love of your life!
-
Liar, you know chocolate can't speak.
---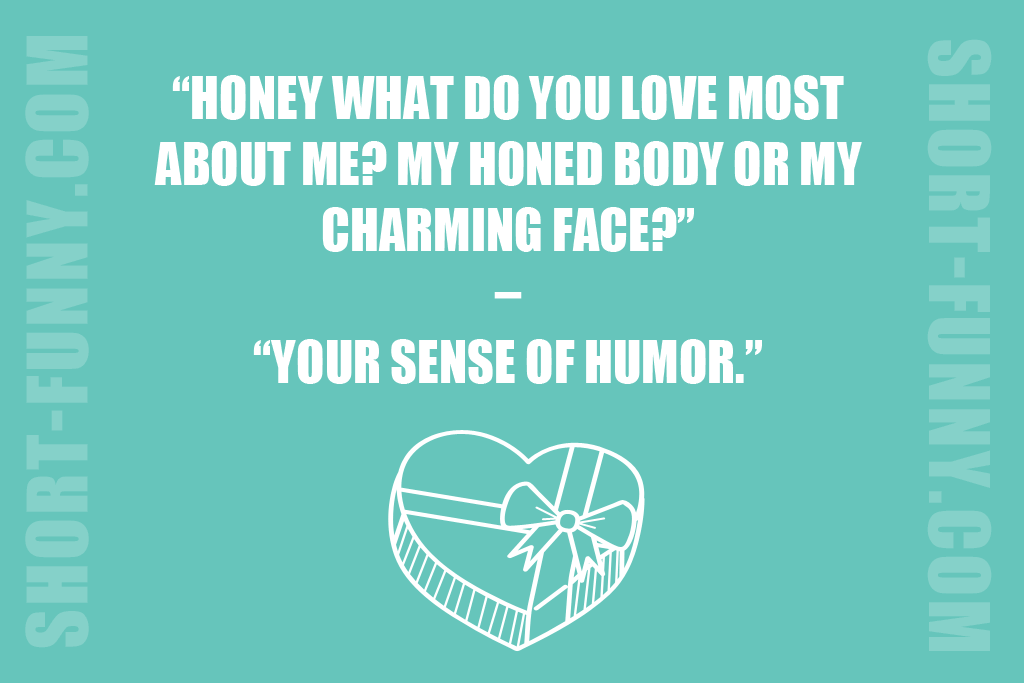 ---
Man to his wife, "Do you like it at the beach, darling?"
"Yes! The view makes me quite speechless, dear!"
"Very good, we're staying 3 weeks."
---
Girl: One day I will marry. A lot of men will be sad that day.
-
Boy: Wow, how many men do you plan to marry?
---
Telegram to husband: Wife dead. Bury or cremate?
Man: Take no chances. Burn, then bury ashes.
---
A man noticed his credit card has been stolen - but he never reported it because the thief was still spending considerably less than his wife.
---
Finally I got an idea of what it looks like in a woman's brain: 126 open tabs in an internet browser.
---
How do you know a woman doesn't value honesty? When she asks you, "How do I look, darling?
---
"Man: Darling, I just ordered our groceries online.
Wife: Really?! You've just sent me a Whatsapp saying I should do the shopping.
Man: Well, that's what I said.
---
I'm not saying my wife's cooking is bad…..
But a few Middle Eastern weapons manufacturers offered a very nice price for her recipes.
---
I felt incomplete until I married you.
Now I'm finished.
---
Husband: Shall we make a nice weekend for each other, honey?"
Wife: "Oh, that would be lovely, Georgie!"
Husband: "Fantastic! Well, see you Monday."
---
A real man always accompanies his wife to the train station when she leaves. What other way to make sure she's actually gone?
---
Why do men so often die before their wives do?
-
Because they want to.
---
Woman says to her fiancé: "When we're married, we'll have three kids. A brown-haired girl and two blonde boys.
-
Fiancé: "How can you tell with such precision?"
-
Woman: "Because I told my parents I'll finally pick up the kids from them once we're married."
---
Husband takes his wife to a disco. There's a guy on the dance floor dancing like a king –moonwalking, break dancing, head spins, the works.
The wife turns to her husband and sighs: "You see that man? 25 years ago he asked me to marry him and I said no."
Husband says: "Yep, it looks like he's still celebrating!!"
---
Next Part
Husband and Wife Jokes
Part 1
|
Part 2
|
Part 3
|
Part 4
|
Part 5
|
Part 6
---