Chuck Norris is so manly, even his chest hair has chest hair.
---
If you seek a list of Chuck Norris' enemies, try checking the extinct species list.
---
Mr. Norris once ate a whole cake before anybody could warn him that there was a stripper inside.
---
Chuck Norris was once bitten by a black mamba. After three days of agony, the black mamba died.
---
Why do children cry when they are born? They know they've entered a world with Chuck Norris in it.
---
Chuck Norris has his own joke category.
---
They once did a Survivor episode with a bunch of people and Chuck Norris being dropped off on a deserted island. There were no survivors and nobody's had the guts yet to go there and pick up the filmed material.
---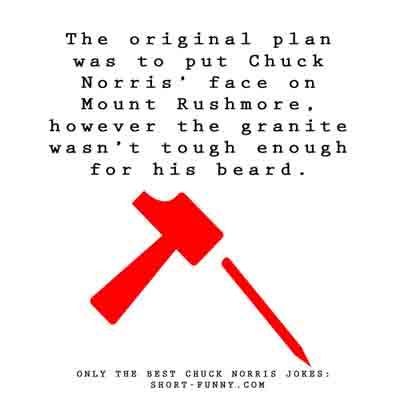 Chuck Norris doesn't read books. He squeezes the needed information out of them.
---
The Apple customer support did as Chuck asked and speedily installed Android on his iPhone.
---
Next Part of the best Chuck Norris jokes

Part 1
|
Part 2
|
Part 3
|
Part 4
|
Part 5
|
Part 6
|
Part 7
|
Part 8
|
Part 9
See also:
New jokes
---