Chuck Norris has a Grizzly bear rug. The bear is alive, but it's too scared to move.
---
Chuck Norris can magic a hat out of a rabbit.
---
Chuck Norris is the only person who can really kill time.
---
Chuck Norris drives on the right side, even in Great Britain.
---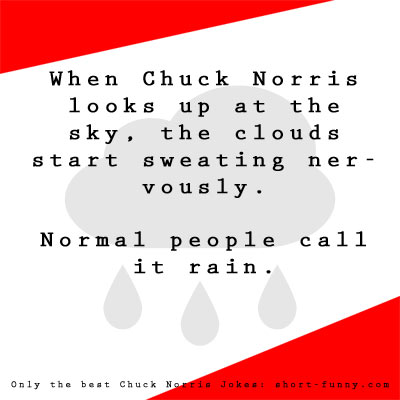 ---
Chuck Norris once played the Russian Roulette with a fully loaded gun and won.
---
Chuck Norris uses Tabasco as eye drops.
---
Chuck Norris killed the Dead Sea.
---
Some children can pee their names into snow. Chuck Norris pees his in cement.
---
Somebody asked Chuck Norris to please stop giving roundhouse kicks to people all the time. Historians agree this was one of the biggest mistakes ever made.
---
The Holy Grail has never been recovered because nobody is so brave as to ask Chuck Norris for his favorite coffee mug.
---
Next Part of the best Chuck Norris jokes

Part 1
|
Part 2
|
Part 3
|
Part 4
|
Part 5
|
Part 6
|
Part 7
|
Part 8
|
Part 9
See also:
New jokes
---