Chuck Norris can rob a bank - through phone banking!
---
Chuck Norris doesn't die...he just naps in the ground for a bit.
---
It doesn't matter what Chuck Norris cooks when he asks you over. It just tastes divine!!
---
Chuck Norris only drinks from a straw. It is impossible for him to unclench his fists and hold a glass.
---
Chuck Norris once kicked a horse in the chin. His descendants are known today as giraffes.
---
There is no use crying over spilt milk. Unless, of course, that milk belonged to Chuck Norris.
---
Even though he can, naturally, Chuck Norris never swims, the water holds Chuck Norris up.
---
What is the last thing that goes through the head of any Chuck Norris victim? His foot.
---
Chuck Norris worked for FBI for a while as a terrorist negotiator. His job was simply to call the terrorist and say, "This is Chuck Norris."
---
Once, a false alarm was raised when a bystander thought Chuck Norris was attempting to slit his wrists. He was just sharpening his knives.
---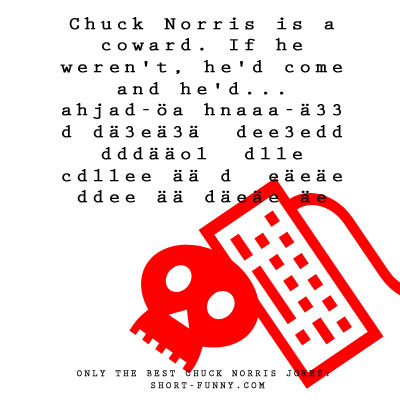 ---
Next Part of the best Chuck Norris jokes

Part 1
|
Part 2
|
Part 3
|
Part 4
|
Part 5
|
Part 6
|
Part 7
|
Part 8
|
Part 9
See also:
New jokes
---