Chuck Norris doesn't do fishing. He says, "You, you and you, out!" and off he goes with three fish.
---
Chuck Norris naps with his eyes open!
---
The wheelchair symbols at parking lots don't mean that the places are reserved for the disabled. They are an express warning that the place belongs to Chuck Norris.
---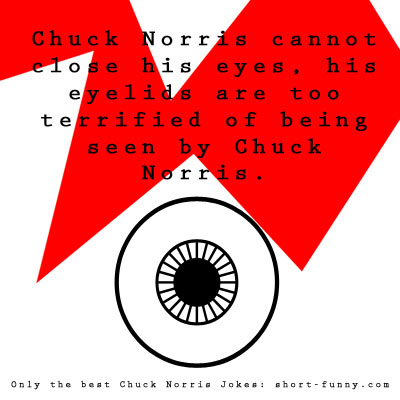 ---
Chuck Norris has a little sister. Her name is Steven Seagal.
---
Chuck Norris is so well endowed, long-distance relationships aren't a problem.
---
Chuck Norris keeps a diary. It's known as the Guinness Book of Records.
---
No one can lick their own elbow. Chuck Norris can lick them both.
---
Whenever Arnold says, "I'll be back" in any of his movies, he means that he's just going to quickly ask Chuck Norris for advice.
---
What happens when Chuck Norris says "Sit" to his dog?
-
All the people within hearing distance sit down.
---
Next Part of the best Chuck Norris jokes

Part 1
|
Part 2
|
Part 3
|
Part 4
|
Part 5
|
Part 6
|
Part 7
|
Part 8
|
Part 9
See also:
New jokes
---