"Are you alright dad?"'
"Actually, technically, I'm half left and half right."
---
Do you know how to make somebody curious?
[No]
I'll tell you tomorrow!
---
Son: I'm really sorry I did it, dad.
-
Dad: Well, son, you know that now I must pun-ish you.
---
"Oh dad, you gotta save me!"
"And would you like to be a pdf or an xls?"
---
Dad, I'm done!
-
Hi Done, I'm dad.
---
"I'll call you later!"
-
"Please don't do that. I've always asked you to call me Dad!"
---
Son: "Am I adopted?"
-
Dad: "Not yet, it seems nobody is interested."
---
Father, lying in his deathbed:
"Mary, my wife, are you here with me?"
"Yes, I am, dearest."
"And Louise, my mother in law, are you here with me?"
"Yes, I am, Paul, I'm here with you."
"And you, children, are you here, Karen and Henry?"
"Yes, yes we are, daddy!"
"Then how the hell is the living room light left on?!"
---
Dad, looking at soy milk: "Holá, milk, soy dad.
---
We had to pull over to let an ambulance whizz by, sirens blaring. My dad was silent for a while and then commented, "I can't see them selling much ice-cream at this speed."
---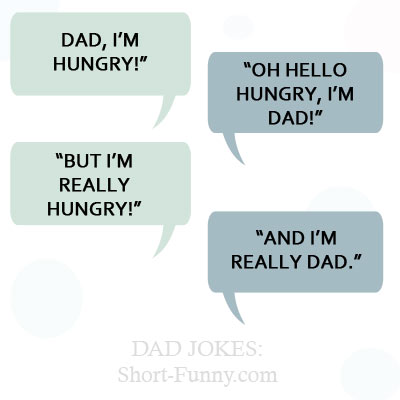 ---
"Dad, can you call mom's phone? She can't find it."
"Absolutely! 'Mom's phone! Mom's phone!'"
---
Daughter: "How do I look, daddy?!"
Dad: "With your eyes, sweetheart."
---
Father: Do you know the joke from the 3rd floor?
-
Son: "No,"
-
Father: Me neither, I was on the 2nd floor at the time.
---
Do you have a hole in your shoe?
-
[NO]
What do you mean, no? How did you get your foot in then?"
---
Hey dad how was your weekend?" - "Light, dark, light, dark, Monday."
---
Dad to his son: "I like you. You remind me of myself when I was young and dumb.
---
"Daughter to her dad: "What is it?"
-
Dad: "It" is a pronoun.
---
"Son, did you know I was named after Nikola Tesla?"
-
"But Dad, your name is Michael!"
-
"True, but I was named AFTER him."
---
You: "So, dad, I was thinking…"
Dad: "Ohhhhh and I wondered what that high-pitched grinding sound was!"How many pears grow on a tree? They all do.
---
Officer, I'm calling to report my children. They refuse to go to bed. They are resisting a rest.
---
Dad to his daughter: "Never forget, sweetie, you're unique, like everyone else."
---
Can you put my shoes on, dad?" - "Actually, I think they're a bit too small for me."
---
Dad, can I leave the table please?
-
Sure, as long as you leave it right where it is.
---
First Part of Dad Jokes

Part 1
|
Part 2
|
Part 3
|
Part 4
|
Part 5
|
New Dad Jokes
See also:
Bad Jokes
---