Why did the singer take a bucket to her choir practice?
-
She needed something to carry her tune.
---
Have you heard there was a kidnapping at the school?
[NO]
But it's fine now, the kid woke up again.
---
I've never liked speed bumps much. But I'm getting over it slowly.
---
What is invisible and smells of carrots?
A little bunny's fart.
---
I saw an expiration day on an anti-aging cream. Now that's just a scam!
---
Why is our nose right in the middle of our face?
-
Well, it is the scenter.
---
How do you call a boat without a rope?
-
"Boat!"
---
"Esrowneve" may look like gibberish, but when you put it backwards, it's even worse…
---
How do you make holy water? Freeze it into ice, then drill in some holes.
---
Jokes about communism are only good if everybody gets them.
---
They say whiskey isn't an answer. But I say it's worth a shot.
---
I quit as a taxi driver. Couldn't stand all the people talking behind my back.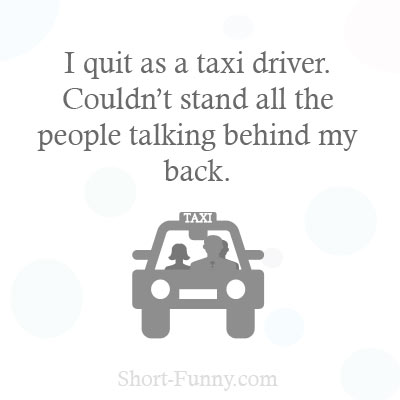 ---
Next Part of Dad Jokes

Part 1
|
Part 2
|
Part 3
|
Part 4
|
Part 5
|
New Dad Jokes
See also:
Bad Jokes
---