What do you call a sheep without legs?
-
A cloud.
---
Did you know that UPS and Fedex are going into a merger? They will be called Fed-Ups now.
---
I love my rock-hard, honed six-pack so much I protect it with a good layer of lard.
---
You should always keep your cool when handling justice. Otherwise it would become justwarm.
---
Two tomatoes are walking down the road, when one says, "Be careful there is a truck com..." Splllaaaaasshhh!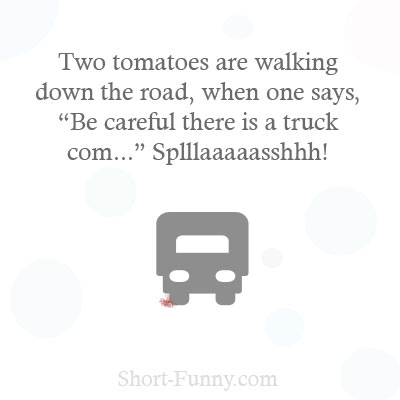 ---
I was looking for some books on paranoia in the library. When I asked, the librarian said very quietly, "Yes. They are behind you."
---
Cliffhanger endings are incredibly frustrating. They just
---
The hipster from next door drowned. He went ice skating before it was cool.
---
Not even orcas dare attack an octopus.
It's too well armed.
---
I wanted to wear my camouflage jeans today but I just couldn't find them.
---
I was told I pick my nose at times. I mean, why would I do that? I've still got the one I was born with!
---
Cannibals aren't very sociable. They're all fed up with people.
---
Doctor, do these sleeping pills create an addiction?
-
Absolutely not, no worries, I myself have been using them daily for years!
---
I don't know why people have a problem with wigs. It's a look anybody can pull off!
---
I decided, after so many years in the marital bedroom, it was time for a one night stand. I'll go back to the furniture shop tomorrow to pick up the other one.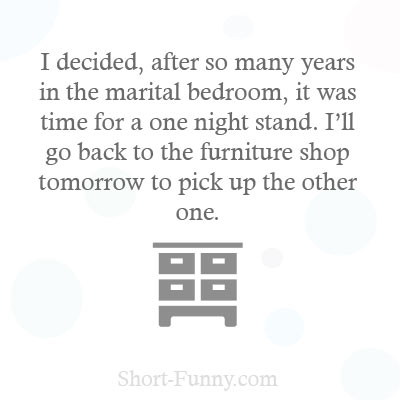 ---
Two cows meet, one says, "Mooooo!"
-
The other one is offended, "Hey, I just wanted to say that!"
---
Two penguins meet. One says, "Jesus it is cold today.
The other hisses, "Shut up. Penguins can't talk."
---
Why didn't the Orange drive when the lights turned green again?
-
No juice!
---
Vegetarian is an old Indian word. Originally, it means "a bad hunter".
---
Why was the toilet paper rolling down the hill?
-
It was in a rush to get to the bottom.
---
Next Part of Dad Jokes

Part 1
|
Part 2
|
Part 3
|
Part 4
|
Part 5
|
New Dad Jokes
See also:
Bad Jokes
---