---
Part 1 | Part 2 | New Dad Jokes
---
Is Google a he or a she?
A she, no doubt, because it won't let you finish your sentence without suggesting other ideas.
---
Reporter interviews a man: "Sir, you've lived next to this highway for 20 years, do you feel that it has somehow influenced you?"
-
The man: "NOOooooo, NOOoooo, NOOooo…"
---
I've never liked speed bumps much. But I'm getting over it slowly.
---
What is the worst combination of two sicknesses?
-
Diarrhea and Alzheimer. You're running, but you don't know where.
---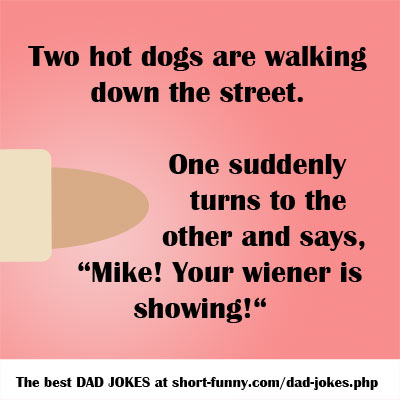 ---
Which bus never drove on any street?
The globus.
---
Have you heard there was a kidnapping at the school?
[NO]
But it's fine now, the kid woke up again.
---
I was a doctor for a while but then I quit. I simply didn't have enough patience.
---
Little Petra asks her dad at breakfast time, "Daddy, can you please teach me how to make eggs?"
Dad shakes his head, "Nope."
"But why daddy? I want to learn!"
The dad winks at her, "I can't teach you how to make eggs because I'm not a hen."
---
I saw an expiration day on an anti-aging cream. Now that's just a scam!
---
Problems sleeping? Cut the legs of your bed. You'll sleep deeper.
---
Daddy what's a transvestite?
-
Ask Mommy, he knows.
---
Clever Dad Jokes
---
Have you heard that popular joke about sidewalks?
-
I'm telling you, that thing's all over town!
---
Yes, money cannot buy you happiness, but I'd still feel a lot more comfortable crying in a new BMW than on a bike.
---
"Esrowneve" may look like gibberish, but when you put it backwards, it's even worse…
---
What do you call an American Bee?
A USB.
---
What type of candy is always late?
A chocolate.
---
They say whiskey isn't an answer. But I say it's worth a shot.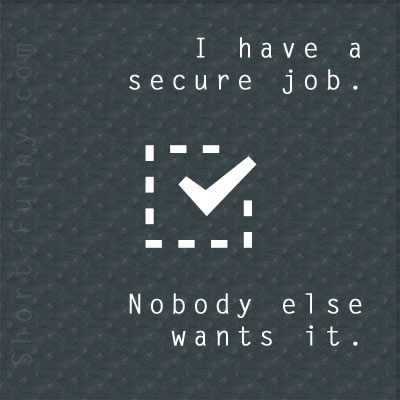 ---
Part 1
|
Part 2
|
New Dad Jokes
See also:
Bad Jokes
---