Two walls arrange a date – "I'll meet you at the corner."
---
I read the other day that people eat more bananas than monkeys. No surprises there, I can't even remember the last time I ate a monkey.
---
My wife dared doubt my craftsmanship when I was changing the light switch. Haha, she's in for a shock.
---
Working in a crematorium, you can never urn a living.
---
What do you do when the phone rings and you get a private caller?
-
Don't answer that. Pick up for ranks Lieutenant and higher only.
---
How much longer is the Amazonas compared to the Nile? [Don't know] By 4 letters.
---
What is red and flies through the air?
-
A tomato in a helicopter.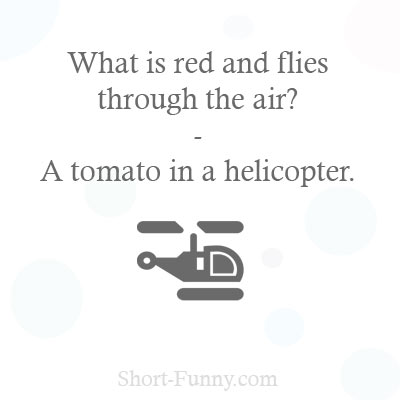 ---
They are testing a revolutionary new blender, but they're getting mixed results.
---
"What is a bunny without a carrot?"
-
"Hungry!"
---
Did you hear about the new movie constipation? It hasn't come out yet.
---
Do you know how I embrace my mistakes?
-
I hug my wife and children.
---
Why Davids should never loose their ID?
-
Because then you have to call them Davs.
---
A single glance tells me if somebody is lying. It's the fact that they're horizontal that gives it away.
---
Pregnant women should be given way more respect and comfort in the society. After all, it's the only way to make a living.
---
You may be an American when you go to the restroom. You may be an American when you leave the restroom. But when you're in there? European.
---
Next Part of Dad Jokes

Part 1
|
Part 2
|
Part 3
|
Part 4
|
Part 5
|
New Dad Jokes
See also:
Bad Jokes
---